Frequently asked questions
EYE CONDITIONS & TREATMENTS
Below we provide you with information about the most common eye conditions.
If you are having any vision or eye problems, book your consultation with Davida today.
myopia
Myopia is derived from the term "muopia" which, in Greek, means to close the eyes. It manifests itself as blurred distance vision, hence the popular term "short or near-sightedness." Clear distance vision is usually restored with minus power (concave) spectacle or contact lenses or corneal modification procedures in which corneal refractive power is decreased.

Myopia is the refractive anomaly of the eye in which the conjugate focus of the retina is at some finite point in front of the eye when the eye is not accommodating. It can also be described as the refractive condition in which parallel light rays from an object at optical infinity are focused by the eye in front or short of the retina, in a relaxed state of accommodation.
Signs and symptoms
The most common symptom associated with uncorrected myopia is blurred distance vision. In simple myopia and degenerative myopia, the distance blur is constant. In nocturnal myopia, distance vision is blurred only in dim illumination or in dark conditions.

Children with simple myopia are often unaware that they have reduced distance vision until they discover that other children see better than they can. For example, many school children first notice that they cannot read the chalkboard as well as their classmates. For others who never report a problem, poor distance vision is first detected during vision screening or comprehensive eye and vision examination. The primary sign of myopia is reduced unaided distance visual acuity, which can be corrected to standard or near-standard levels with the appropriate minus power optical correction.
Detection and Prevention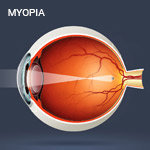 Myopia or short-sightedness
Reduced unaided distance visual acuity is a possible indication of myopia, particularly when unaided near visual acuity is normal or better than unaided distance acuity. Myopia can be detected by visual acuity testing, retinoscopy, autorefraction, or photorefraction during vision screening or clinical examination.

There is no universally accepted method of preventing myopia. However, some clinicians identify nearpoint vision stress as a possible contributor to the development of simple myopia. When presented with signs of nearpoint vision stress, such as distance blur, poor accommodative facility, and refraction at about plano (zero lens strength is required for clear distance vision), some clinicians recommend regimens such as the following:


Plus power lenses in single-vision or bifocal form for reading and near work
Vision therapy or orthoptics to eliminate deficiencies in accommodation and vergence function

Further research into the risk factors relating to incipient myopia is needed to clarify and support these clinical interventions.
Treatment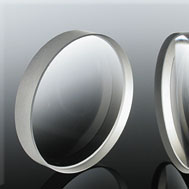 Minus (concave) lenses
The goals for management of the patient with myopia are clear, comfortable, efficient binocular vision and good ocular health. The primary symptom in patients with low and moderate myopia is lack of clear vision at distance, which can be restored by optical correction. Treatment directed to slowing the progression of myopia is referred to as "myopia control". Effective myopia control results in less severe myopia and less vitreous chamber elongation than would otherwise have occurred.

Optical correction in the form of spectacles or contact lenses provides clear distance vision. Whether spectacles or contact lenses are preferable in a given case depends upon numerous factors, including patient age, motivation for wearing contact lenses, compliance with contact lens care procedures, corneal physiology, and financial considerations. It is the optometrist's responsibility to advise and counsel the patient regarding the optical correction options available and to guide the patient in the selection of the appropriate spectacles and/or contact lenses.
HYPERopia
astigmatism
presbyopia
emmetropia
Pterygium
A pterygium (pronounced "te-ridge-e-um") is an elevated wedge -shaped growth on the conjunctiva or mucous membrane that covers the white part of your eye. It usually originates from the inside corner of the eye, but less commonly from the outside corner. The word Pterygium is from the Greek word "pterygos" meaning "wing", Typically that of a butterfly. The Ptyrigium resembles a butterfly wing in both shape and appearance. These growths are non-cancerous, but they do contain blood vessels and can form scar tissue that can permanently disfigure the eye. Exposure to ultraviolet light has been identified as the main culprit regarding the growth of a pterygium. Wind, dust, and exposure to ultraviolet light will cause the pterygium to become inflamed, dry, and very itchy. These growths need to be surgically removed by an eye specialist before they invade the cornea and affect vision. Ptyrigia that occur on the surface of the eye are commonly mistaken as cataracts which is actually inside the eye. Recurrence of the pterygium is minimised by wearing good quality sunglasses with a 100% UV filter.
Signs and Symptoms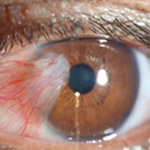 A pterygium starts as redness and thickening in the corner of the eye – usually the corner closest to the nose. The growth can extend across the surface of the eye towards the iris (the coloured part of the eye). Often a person may notice the formation of a pterygium but may not experience any other symptoms.
Typical Signs of a pterygium are:
Wedge-shaped, translucent membrane with apex extending onto cornea.
White to pink in color, depending on vascularity.
Vascular straightening in the direction of the advancing head of the pterygium.
Stocker line: iron line on cornea at leading edge of pterygium.
Regular or irregular astigmatism
Degenerative changes.
Symptoms may vary, but the most common are
Eye redness and inflammation.
A gritty feeling in the eye.
A feeling that there is a foreign object in the eye.
Dryness of the eye due to reduced tear production.
Blurring of vision if the corneal surface is altered or "warped".
Obscuring of vision if growth encroaches across the pupil.
Causes and Risks
The cause is unclear. It appears to be partly related to long term exposure to UV light and dust. Genetic factors also appear to be involved. It is a benign growth. Other conditions that can look similar include a pinguecula, tumor, or Terrien's marginal corneal degeneration.
Risk Factors typically include:
Ultraviolet exposure (single most significant risk factor).
Exposure to irritants (dust, sand, wind).
Inflammation.
Dry ocular surface.
A pterygium can lead to severe scarring on your cornea, but this is rare.
Scarring on the cornea needs to be treated because it can cause vision loss.
Treatment
The pterygium itself is normally harmless and treatment is purely to relieve symptoms when they occur. A pterygium often causes a dry eye problem, and most symptoms tend to be relieved by an artificial tear drop.
If the lesion causes persistent discomfort or interferes with vision, it can be surgically removed during an outpatient procedure. The operation can be performed under local anaesthesia (awake) or general anaesthesia (asleep). The choice is based on anticipated length of surgery, the size of the pterygium, the surgeon's advice and the patient's own preferences.
Surgical intervention is considered if:
Your symptoms are not adequately relieved by the eye drops.
Your symptoms recur frequently.
There is pus in the eye or the eyelids stick together on waking in the morning.
The pterygium covers part of the iris and grows onto the cornea and towards the pupil.
You have any deterioration of vision.
You would like the pterygium to be removed for cosmetic reasons.
The type of surgery most commonly used today uses a graft from the patient's own conjunctiva (surface eye tissue) or preserved amniotic membrane (the thin tissue forming the sac in which a foetus grows) to fill the empty space created by the removal of the pterygium. In this procedure, the pterygium is removed and the conjunctiva or amniotic membrane is glued or stitched onto the affected area.
Prevention, and specifically post operatively, wearing sunglasses and a hat if in an area with strong sunlight is essential. Following surgery, a pterygium may recur in around half of cases.
PINGUECULA
NEOVASCULARISATION
ALLERGIC CONJUNCTIVITIS
MEIBOMITIS
BLEPHARITIS
GPC
Anterior & corneal pathology
DRY EYE
This condition is also known as Keratoconjunctivitis Sicca, but more commonly referred to as Dry Eye Disease (DED). The tear layer is made up of three layers; a lipid, aqueous and mucin layer; which becomes deficient in one or more of the layers. Systemic conditions, medications and environmental factors, like PCs and aircons often result in DED. The most common treatment of DED is the instillation of tear supplements combined with the implementation of a good lid cleaning regimen. The constant dry eye leads to micro erosions occurring on the corneal surface, and these micro breaks are an easy route into the cornea for various organisms leading to constant infections, and in some cases, severe conditions requiring urgent intervention.
Signs and Symptoms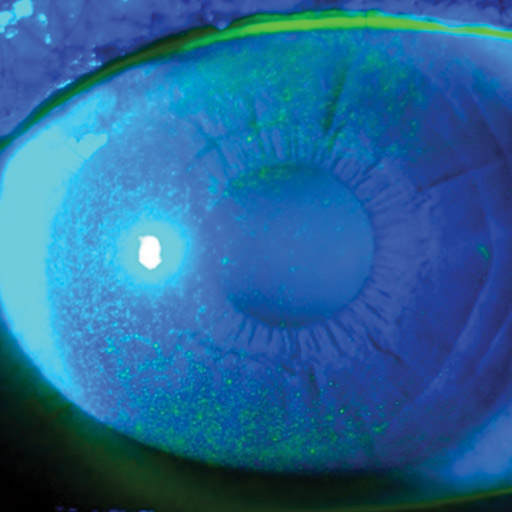 Sometimes, dry eyes create too many tears. This confusing condition is called reflex tearing. It happens because the lack of moisture irritates your eye. It sends a distress signal through your nervous system for more lubrication. Your body sends a flood of tears to try to make up for the dryness. It's a lot like what happens when you get sand in your eye and it runs. But these tears are mostly water, so they don't act like normal tears. They can wash debris away, but they can't coat your eye's surface.
Dry eye symptoms may include any of the following:
stinging or burning of the eye.
a sandy or gritty feeling as if something is in the eye.
episodes of excess tears following very dry eye periods.
a stringy discharge from the eye.
pain and redness of the eye.
episodes of blurred vision.
heavy eyelids.
inability to cry when emotionally stressed.
uncomfortable contact lenses.
decreased tolerance of reading, working on the computer, or any activity that requires sustained visual attention.
eye fatigue.
Causes and Risks
Typical common causes of chronic Dry Eye mostly include:
Side effects of some medications, including antihistamines, nasal decongestants, tranquilizers, certain blood pressure medicines, Parkinson's medications, birth control pills and anti-depressants.
Skin disease on or around the eyelids.
Meibomian gland dysfunction.
In women during pregnancy.
Women who are on hormone replacement therapy.
Women taking only estrogen are 70 percent more likely to experience dry eye, whereas those taking estrogen and progesterone have a 30 percent increased risk of developing dry eye.
After Lasik refractive surgery.
Chemical and thermal burns.
Chronic allergies.
Infrequent blinking, associated with long hours working on computer or video screens.
Both excessive and insufficient dosages of vitamins can contribute to dry eye.
Homeopathic remedies may have an adverse impact on a dry eye condition.
Loss of sensation in the cornea from long-term contact lens wear.
Immune system disorders such as Sjögren's syndrome, lupus, and rheumatoid arthritis.
Chronic inflammation of the conjunctiva, or the lacrimal gland.
If the surface area of the eye is increased, as in thyroid disease when the eye protrudes forward or after cosmetic surgery.
Exposure keratitis (eyelids do not close completely during sleep).
Several risk factors for the development of Dry Eye Disease have been identified repeatedly in epidemiological studies, such as increasing age and female sex (particularly postmenopausal women). In clinical experience, menopausal and postmenopausal women both tend to have dry eye symptoms; this can be attributed to the significant decrease of tear production around the sixth decade of life in women. Hormonal studies suggest that sex hormones influence ocular surface conditions through their effects on tear secretions, meibomian gland function, and conjunctival goblet cell density. A study pointed out that women who were taking oral contraceptives had significantly higher goblet cell density than those who were not taking oral contraceptives. This was particularly true for women who used estrogen alone.
Treatment
Artificial tear drops and ointments are the most common treatment. Many types of drops are available. No one product works for everyone, so you might have to try a few to figure out the one that's right for you. If you have chronic dry eye, you need to use the drops even when your eyes feel fine, or they won't stay wet enough. If your eyes dry out while you sleep, you can use a thick product, like an ointment, at night.
If artificial tears do not adequately address these inflammatory changes, your doctor may recommend steroid eye drops to better manage the underlying inflammation associated with dry eyes. Steroid eye drops are generally used short-term to quickly manage symptoms. They are typically used in conjunction with artificial tears.
Punctal plugs are also an option. Small, sterile devices are inserted into one or both of the small openings (puncta) that are located in the inner corner of the upper and lower eyelids. After these openings have been plugged, tears can no longer drain away from the eye through these ducts. In this way the tear film stays intact longer on the surface of the eye.
A very significant percentage of dry eye cases are caused by inadequate oil (meibum) being secreted from meibomian glands located along the margin of the eyelids. Gently massaging the eyelids can aid the release of the oily component of the tear layer. An alternative (and potentially more comfortable) way to help open clogged meibomian glands to treat dry eyes is to simply apply warm compresses to the closed eyelids to soften the hardened meibum.
Studies have found that supplements containing omega-3 fatty acids can decrease dry eye symptoms. Good sources of omega-3s include cold-water fish such as salmon, sardines, herring and cod. For a vegetarian source of omega-3s, flaxseed oil can help to relieve dry eye.
In extreme cases, surgical cautery is a procedure to permanently seal the ducts of the lacrimal drainage system
If you have mild dry eye symptoms be sure to:
Blink more frequently.
Take frequent breaks during computer use.
Remove eye makeup thoroughly.
Clean your eyelids.
Wear quality sunglasses.
KERATOCONUS
EARLY CATARACT
MATURE CATARACT
POSTERIOR & RETINAL PATHOLOGY
GLAUCOMA
OPEN & CLOSED ANGLE
MACULAR DEGENERATION
Macular degeneration (MD) is an eye disorder that occurs when the tissue in the macula deteriorates. The health of the macula determines our ability to read, recognize faces, drive, watch television, use a computer, and perform any other visual task that requires us to see fine detail. This loss of detail only occurs in the central area of our visual field, and for this reason, it does not cause total blindness.
There are 2 types of macular degeneration:
Dry Macular degeneration which is very slowly progressing.
Wet Macular degeneration which progresses over a very short period of time.
The dry form is more common than the wet form, with about 85 to 90 percent of AMD patients diagnosed with dry AMD which progresses very slowly over a period of many years. Severity ranges from a total loss of central vision, whilst for some, it may only cause slight distortions. The wet form which causes a sudden loss of vision over a short time usually leads to more serious vision loss.
Your eyecare practitioner can advise you and show you how to detect and monitor the progression of MD. If you have been diagnosed with Macular Degeneration, it is strongly advised that you have your eyes checked at least once a year to monitor for any changes so that your practitioner can intervene, advise, and refer if necessary.
Signs and Symptoms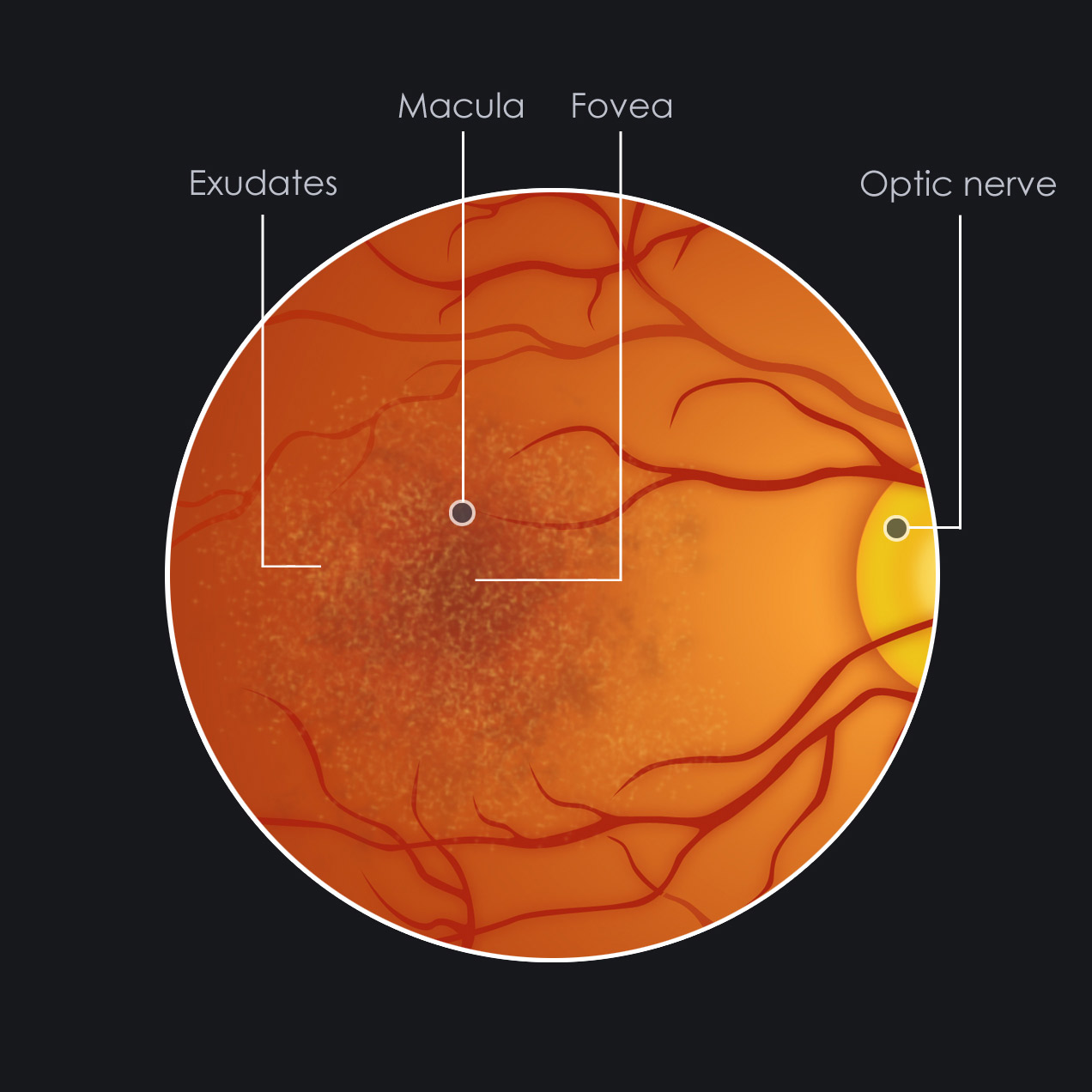 Age-related macular degeneration usually produces a slow, painless loss of vision. In rare cases, however, vision loss can be sudden. Early signs of vision loss from AMD include shadowy areas in your central vision or unusually fuzzy or distorted vision. There are 2 types of Macular degeneration.
Dry macular degeneration (non-neovascular).
Dry AMD is an early stage of the disease and may result from the aging and thinning of macular tissues, depositing of pigment in the macula or a combination of the two processes. This condition is diagnosed when yellowish spots known as drusen begin to accumulate in and around the macula. It is believed these spots are deposits or debris from deteriorating tissue.Gradual central vision loss may occur with dry macular degeneration but usually is not nearly as severe as wet AMD symptoms.
Wet macular degeneration (neovascular).
In about 10 percent of cases, dry AMD progresses to the more advanced and damaging form of the eye disease. With wet macular degeneration, new blood vessels grow beneath the retina and leak blood and fluid. This leakage causes permanent damage to light-sensitive retinal cells, which die off and create blind spots in central vision. Choroidal neovascularization (CNV), the underlying process causing wet AMD and abnormal blood vessel growth, is the body's misguided way of attempting to create a new network of blood vessels to supply more nutrients and oxygen to the eye's retina. Instead, the process creates scarring, leading to sometimes severe central vision loss.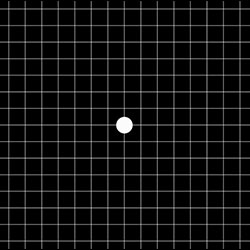 This Grid Pattern is used to map
the progression of Macular Degeneration
Typical Visual symptoms include:
Distorted vision, in which a grid of straight lines appears wavy and parts of the grid may appear blank: Patients often first notice this when looking at things like miniblinds in their home or telephone poles while driving. There may also be central shadows or missing areas of vision.
Slow recovery of visual function after exposure to bright light (photostress test).
Visual acuity drastically decreasing (two levels or more), e.g.: 20/20 to 20/80.
Blurred vision: Those with nonexudative macular degeneration may be asymptomatic or notice a gradual loss of central vision, whereas those with exudative macular degeneration often notice a rapid onset of vision loss (often caused by leakage and bleeding of abnormal blood vessels).
Trouble discerning colors, specifically dark ones from dark ones and light ones from light ones.
A loss in contrast sensitivity.
Macular degeneration by itself will not lead to total blindness. For that matter, only a very small number of people with visual impairment are totally blind. In almost all cases, some vision remains, mainly peripheral.
Causes and Risks
Though macular degeneration is associated with aging, research suggests there also is a genetic component to the disease. Duke University and other researchers have noted a strong association between development of AMD and presence of a variant of a gene known as complement factor H (CFH). This gene deficiency is associated with almost half of all potentially blinding cases of macular degeneration.
Research has shown that oxygen-deprived cells in the retina produce a type of protein called vascular endothelial growth factor (VEGF), which triggers the growth of new blood vessels in the retina.
Common risk factors for developing macular degeneration include:
Aging. Significant vision loss accompanying more advanced forms of AMD increases from fewer than 1 percent among people in their 60s to more than 15 percent among people in their 90s, according to the Canadian Medical Association Journal (February 2004).
Obesity and inactivity. Overweight patients with macular degeneration had more than double the risk of developing advanced forms of macular degeneration compared with people of normal body weight, according to one study reported in Archives of Ophthalmology (June 2003). In the same study, those who performed vigorous activity at least three times weekly reduced their risk of developing advanced AMD, compared with inactive patients.
Heredity. As stated above, recent studies have found that specific variants of different genes are present in most people who have macular degeneration. Studies of fraternal and identical twins may also demonstrate that heredity is a factor in who develops AMD and how severe it becomes.
High blood pressure (hypertension). Investigative Ophthalmology and Vision Science reported the results of a European study demonstrating that high blood pressure may be associated with development of macular degeneration (September 2003).
Smoking. Smoking is a major AMD risk factor and was found in one British study to be directly associated with about 25 percent of AMD cases causing severe vision loss. The British Journal of Ophthalmology in early 2006 also reported study findings showing that people living with a smoker double their risk of developing AMD.
Drug side effects. Some cases of macular degeneration can be induced from side effects of toxic drugs such as Aralen (chloroquine, an anti-malarial drug) or phenothiazine. Phenothiazine is a class of anti-psychotic drugs, including brand names of Thorazine (chlorpromazine, which also is used to treat nausea, vomiting and persistent hiccups), Mellaril (thioridazine), Prolixin (fluphenazine), Trilafon (perphenazine) and Stelazine (trifluoperazine).
The American Academy of Ophthalmology notes that findings regarding AMD and risk factors have been contradictory, depending on the study. The only risk factors consistently found in studies to be associated with the eye disease are aging and smoking.
Treatment
There is as yet no outright cure for age-related macular degeneration, but some treatments may delay its progression or even improve vision. This treatment depends on whether the disease is in its early-stage, dry form or in the more advanced, wet form that can lead to serious vision loss. No FDA-approved treatments exist yet for dry macular degeneration, although nutritional intervention may help prevent its progression to the wet form.
Many organizations and independent researchers are conducting studies to determine if dietary modifications can reduce a person's risk of macular degeneration and vision loss associated with the condition. And some of these studies are revealing positive associations between good nutrition and reduced risk of AMD.
Some studies have suggested a diet that includes plenty of salmon and other coldwater fish, which contain high amounts of omega-3 fatty acids, may help prevent AMD or reduce the risk of its progression. Other studies have shown that supplements containing lutein and zeaxanthin increase the density of pigments in the macula that are associated with protecting the eyes from AMD.
For wet AMD, treatments aimed at stopping abnormal blood vessel growth include FDA-approved drugs called Lucentis, Eylea, Macugen and Visudyne used with Photodynamic Therapy or PDT. Lucentis has been shown to improve vision in a significant number of people with macular degeneration.
Your eye doctor may ask you to check your vision regularly with the Amsler grid described above. Viewing the Amsler grid separately with each eye helps you monitor your vision loss. The Amsler grid is a very sensitive test and it may reveal central vision problems before your eye doctor sees AMD-related damage to the macula in a routine eye exam. For those who have vision loss from macular degeneration, many low vision devices are available to help with mobility and specific visual tasks.
HYPERTENSIVE RETINOPATHY
DIABETIC RETINOPATHY
GLAUCOMA - OPEN ANGLE
GLAUCOMA - CLOSED ANGLE
VITREOUS FLOATERS
30 Victoria Road │Hutten Heights │ Newcastle